Discover why you are here...
What am I good at? What job would fit my personality? Does my career choice match my values? Do I need help narrowing down my career choices?
The mission of Hawaiʻi Community Collegeʻs Career Center is to support students by connecting academic achievements with career and employment resources.
The Career Center offers free resources and assistance to students who want help choosing a major, career, and/or preparing for employment. Through assessments provided by the center, students are able to identify their strengths, interests, values, and skills. The center offers resources that provide helpful information about careers including wages, future outlook, the college majors and coursework required to pursue them, and much more. The center also assists students with all aspects of employment preparation: job search, filling out applications, resume and cover letter writing, and interview preparation. The center assists with on and off campus employment.
Career Exploration Services and Links
Need help finding your career or major?
Start Your Career Assessment
Visit Focus 2 Today
All progress is automatically saved, so you can explore the site and come back at a later date!
You will need to Register first
ACCESS CODE is: hawcc
 


Visit Hawai'i Career Explorer Today
Explore career information, demand, and projected growth in Hawai'i.
Can you earn enough to support the lifestyle you desire?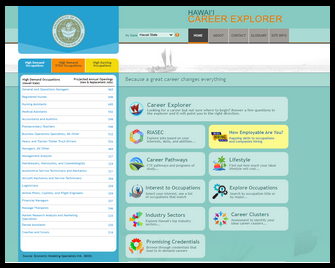 RESOURCES FOR STUDENTS