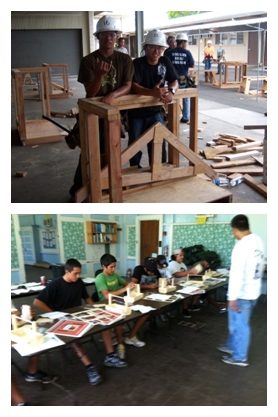 The University of Hawaiʻi Community College system in partnership with participating Department of Education high schools on the islands of Oʻahu, Kauaʻi and Hawaiʻi comprise the Construction Academy. Its mission is to prepare high school students with the technical, academic and employability skills necessary to pursue a career in the construction industry.
The Construction Academy utilizes a hands-on approach to learning that requires students to apply skills in math, communication, technology, problem solving and teamwork in addition to the technical skills required by the construction trades. Participating students who demonstrate proficiency in course standards and outcomes have the opportunity to earn both high school and college credit.
Program Learning Outcomes
Students will be able to:
Use appropriate materials, tools, equipment and procedures to carry out tasks and complete projects
Understand and utilize math computations, formulas, and measurements required in the construction industry
Practice good work ethics and quality workmanship with regard to industry standards
Demonstrate and develop communication, critical thinking and problem-solving skills
Learn and utilize safe practices concerning personal safety, tool usage and other aspects common to the construction industry
Demonstrate skill in developing project drawings and reading blueprints
Identify or describe the characteristics and uses of construction materials, building products, and fasteners
 
History
In 2006, the Hawaiʻi State Legislature passed Act 234 providing funds for the establishment of Construction Academy programs by University of Hawaiʻi Community College campuses at Department of Education high schools. The Act was signed by the Governor on June 23, 2006.
The Construction Academy was created to provide high students with several options and to increase awareness that opportunities in the construction industry can provide a successful, satisfying, and lucrative career. The Construction Academy provides high school students with (1) a head start on a two-year post-secondary degree, (2) the ability to enter a post-secondary apprenticeship program at a higher, more qualified skill level, or (3) the opportunity to join the workforce upon graduation with specialized skills and knowledge.