Congratulations, Hawai'i Community College 2020 Graduates!
We are incredibly proud of your accomplishments. Please view the commencement video with photos, video messages, the names of all graduation candidates and more. Much aloha from the Hawai'i Community College Kauhale.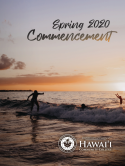 Commencement booklets have been printed and graduates should expect to receive them in the mail in the coming weeks.
All graduates who have ordered a diploma will receive a Hawai'i CC Graduate decal along with their program booklets. Students who have not ordered a diploma and wish to receive a Hawai'i CC Graduate decal, please email us at gradu8@hawaii.edu. Email us by May 29 to request a decal.

With family, community and campus support, Hawai'i CC – Pālamanui graduate thrives
Kapua Kaulia was excited. She was worried. Despite those jitters, she pushed forward in the fall of 2017 with her plans to attend Hawai'i Community College – Pālamanui even though she knew it would be tough attending college as a mother of five juggling both family and academics. FULL STORY
2020 Grads by the Numbers